School Devices: General Information
If your child has a school device and there appears to be an issue with logging on or if for any other reason is not working, please try a hard shut down (turn power off) and try again. If problems persist, please contact your child's teacher.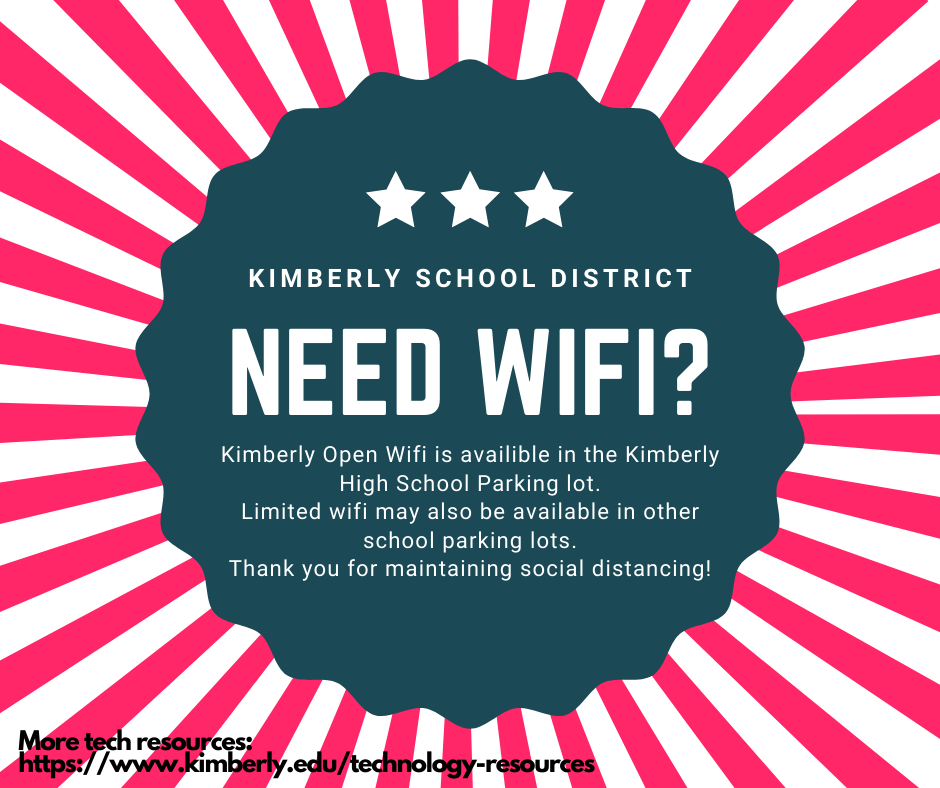 KSD Wi-Fi:
At Kimberly High School:  Our Wi-Fi can be reached in the North Parking Lot. If you park no further North than row three and are in between the awnings (width-when looking at front of school) you should be able to connect to KSD-Open.  Please keep in mind, all devices are not the same and connectivity will depend on your wireless card in your device.  
At Kimberly High School: Ag/Tech Building.  Best connectivity will be between the greenhouse and building.
Other KSD Buildings:  Access around buildings may be available but limited.
Other locations are listed below on the PDF.
Other Internet/Wi-Fi Options
COVID Internet Access Relief Programs
Tekfinity Internet:
To help ease the financial burden and provide continued connectivity for customers impacted by Corona virus (COVID-19), Tekfinity is pleased to announce that, effective immediately, new customers will receive 30 days free on all our plans.  Tekfinity has also introduced a low cost "student" package. Tekfinity has always and will continue to offer all our packages with no data caps as well as no contracts.
Additionally, if customers are struggling or needing financial assistance during this time, Tekfinity will continue our long-standing policy to develop a payment plan that works for each customer. Tekfinity promises that Internet access will not be turned off or disconnected if you are notifying and working with our customer service team.
 
Twin Falls area customers can call 208-736-0188
Sparklight Internet
To see details please go to:
http://one2done.sparklight.com/sparklight-offers-low-cost-internet-to-ass...